CNTHA Chair Briefing - April 2004
Author: Mike Saker
Published: Jul 23rd 2009
Updated: 8 years ago
---
Canadian Naval Technical History Association (CNTHA)
---
15 April 2004 Briefing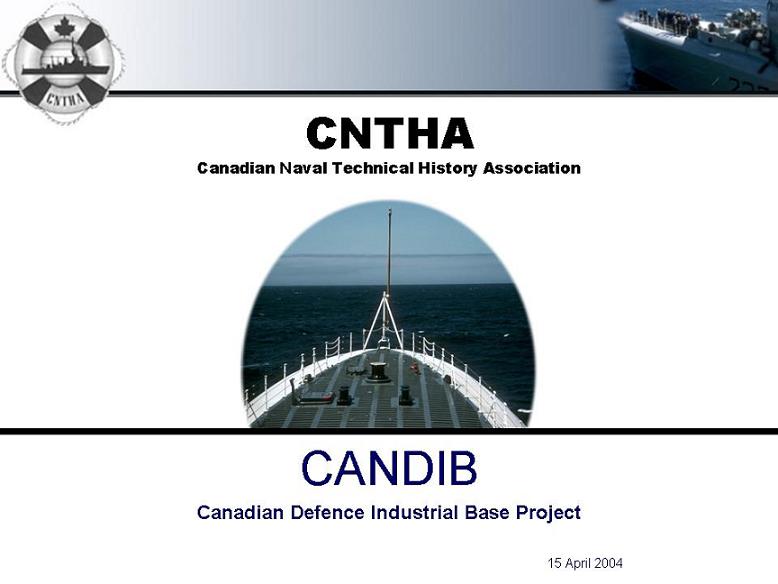 Welcome everybody and thank them for attending.
Explain that CANDIB is a project under the broader umbrella of the CNTHA
Briefly explain the genesis of CNTHA (Phil Munro, Rolfe Monteith, Sam Davis, Hal Smith) and that an essential piece of Rolfe's initial idea was to explore the defence industrial base.
About two years ago a small group of enthusiasts were brought together at Rolfe's instigation to tackle the industrial base aspect as a specific project.
They have now reached the point where they have established a framework and structure, and they are looking to reach out for help and assistance, no matter how small, from those of us who have been engaged in this activity through our careers.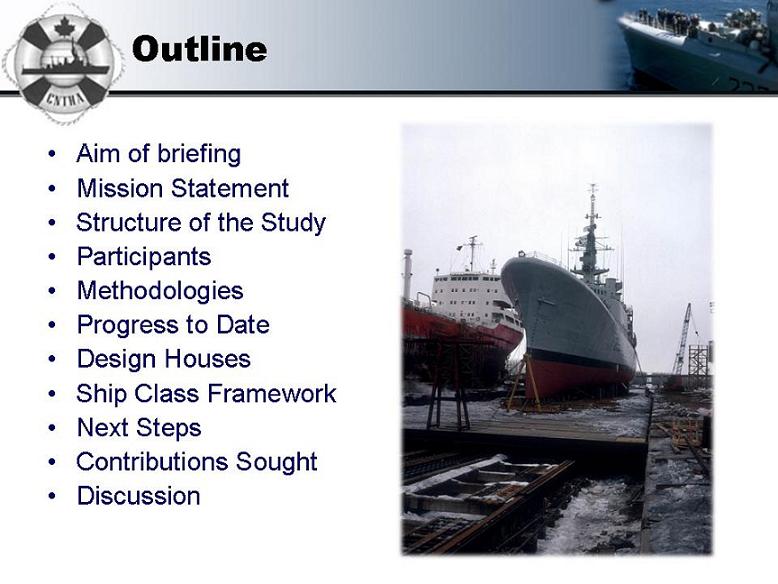 In the next 40 minutes or so we want to take you through a briefing that will cover the following areas.
The first two really just state our objectives (and these are not trivial questions - they have been the subject of many long discussions and frequent revisions)
Then we want to explain:
how we have structured this project or study
Who we have engaged so far
Talk about the methodologies that we are employing
Talk about progress to date
Give you an example of how we are tackling one aspect of the study - the Design houses
Next steps as we see them
Then outline the various ways people may contribute to this effort, and
Then I'll open the floor to questions.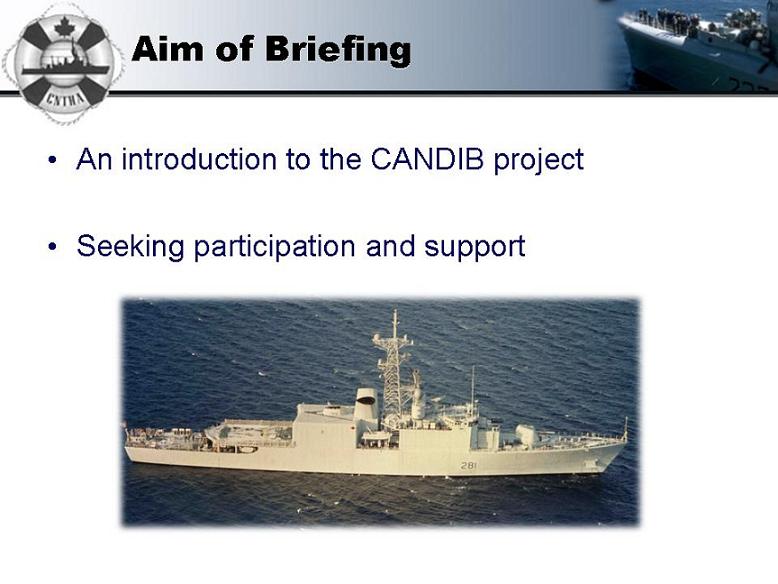 The aim of the briefing today is quite simple to tell you about the project and to see if we can entice some of you to become involved.
Involvement is meant to be fun and interesting. It need not be onerous, as we hope to demonstrate.
This is the CANDIB mission statement.
Note that we are covering the period from 1930 onward, the belief being that major naval shipbuilding didn't really begin in this country until the Second World War.
You can't really talk about the mission statement without addressing the question - what are your end products - what are we trying to achieve?
This question comes up time and again, and it's a legitimate one.
I'd like to describe our function as providing source material for future historians and chroniclers.
We have not embarked upon writing a book per se (like the Naval Air community did). For one thing, the ship story is far more diverse and it is difficult to draw boundaries around it.
So rather than set out to produce a definitive product, our aim is to gather information in a variety of formats for future use. Indeed, some chronicles may be forthcoming as a direct consequence of our work, but that's not the principal objective.
Mike Whitby from the Directorate of History and Heritage will talk more about this at the end of this session.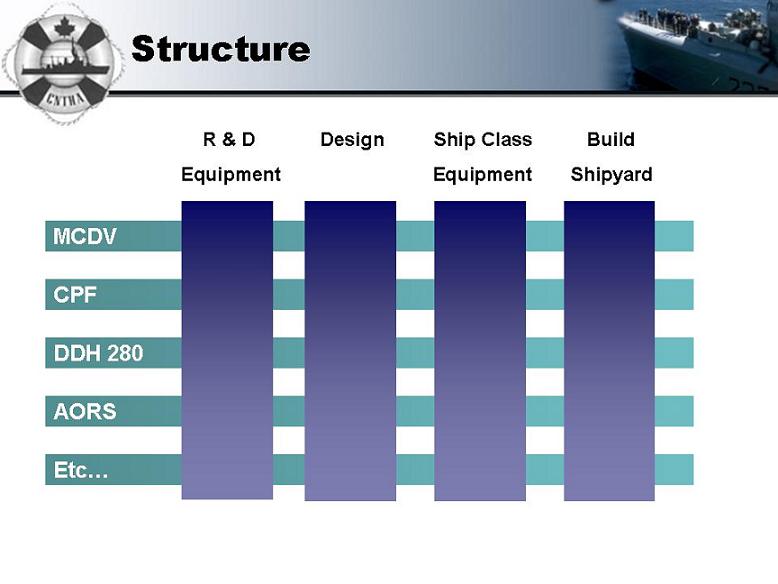 This diagram is intended to give you a visual image as to how we are examining and compiling the subject matter.
We basically are examining four industrial sectors that we have defined as R&D Equipment, Design, Ship Class Equipment and Build Shipyards.
We also are examining the various ship classes, as they invariably had an impact on the industry as a result of the procurement strategies applied in each case.
As you can imagine, the borders described here are not rigid, but it gives some structure to the examination and keeps things within reasonable bounds.
We have assigned OPIs for each of these sectors, as will be explained on the next slide.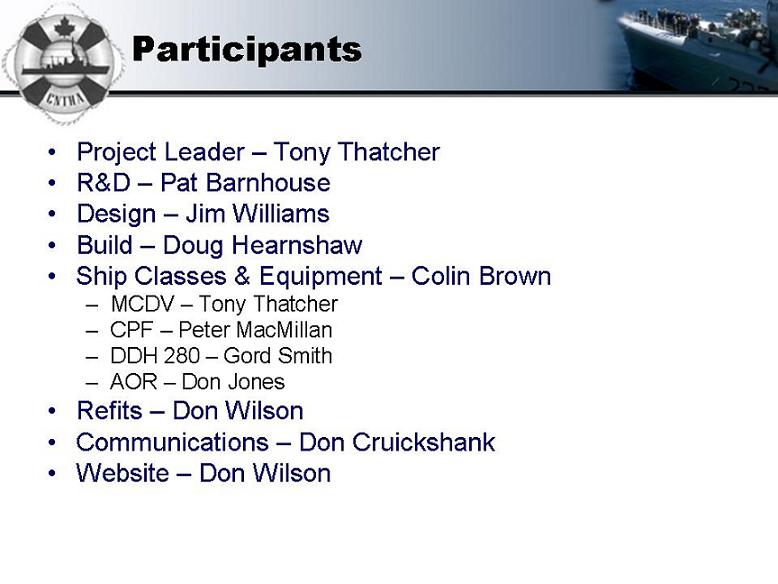 One of the most gratifying aspects of this project is that it has attracted a number of keen participants who have volunteered to lead certain sectors.
Project leadership initially began with Don Jones, and eventually passed to Ron Rhodenizer when we realized that it was essential for the project leader to not only possess email, but also to have the IT resources of a commercial business.
Not only did Ron provide sound leadership to the group, but he was able to offer some IT support from SNC Lavalin that has proven to be extremely helpful. When Ron tragically passed on we were fortunate to have Tony step into the breach to provide the leadership and continuing support of the company.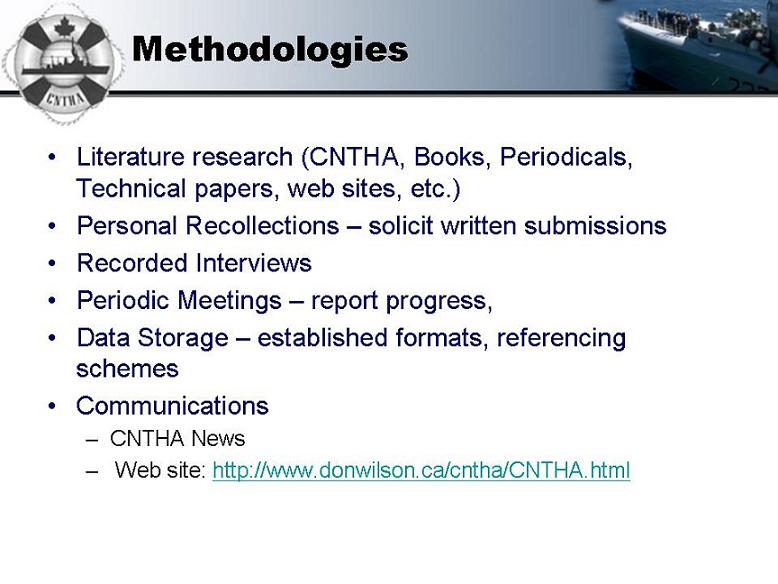 I now want to spend a few minutes talking about the methodologies that we are employing.
Our aim is not to collect filing cabinets full of source documents; rather it is to identify and catalogue source material, and to gather certain overview papers, articles, etc., and, most importantly, personal recollections.
Personal recollections are valuable sources for historians, who, with them are able to ascertain past events and activities (i.e. to put the story together) and then search out the source documents as verification and to provide greater detail.
We welcome inputs in any form, from those who care to give their recollections of past projects and undertakings.
We are also looking into recording interviews in some cases where people may not be able to produce written work.
We meet periodically to discuss progress and issues.
As data accumulates, we are establishing certain formats and referencing systems.
Early on in the life of the CNTHA we saw the need to communicate our activity. We wanted to engender interest and support from the community. We have been part of the MEJ for a number of years. Very recently we established a web site, thanks to Don Wilson. Of course this briefing is a form of communications.
Comment about authenticity: we often hear people say that they'd like to help, but they can't be sure of the details and they are afraid of providing incorrect information. This is quite understandable and is an accepted risk in the process. No one should expect perfect recall. People will differ in their views of events. If enough input is received, certain trends or consensus may emerge - this is what the historian looks for. Our task is to provide the raw data. Without it, the official files often miss the real story.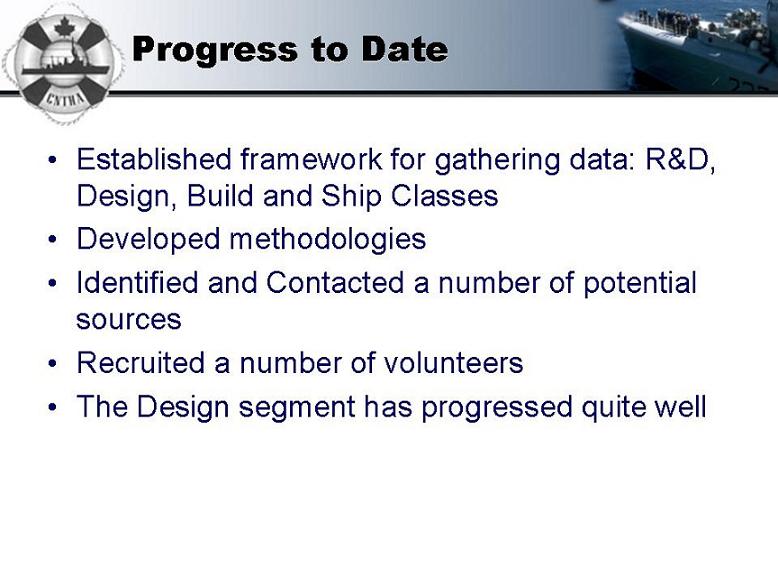 I think that the Project's progress to date has been rather impressive:
They have established frameworks for gathering data (no mean feat);
They've developed methodologies for gathering data;
Identified and contacted a number of potential sources;
Recruited some volunteers; and
Started gathering material
Clearly, the most advanced segment is the Design houses, under Jim William's leadership. [Jim then came to the podium to present this part of the briefing]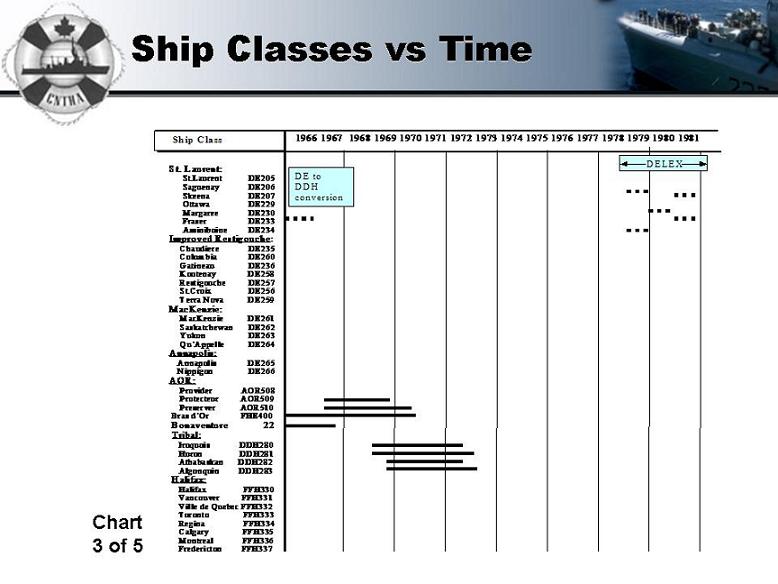 The basis of the research took the form of an analysis of existing publications dealing with the Canadian navy fleet from 1930 to 2002.
These data were integrated into 5 charts listing ship by name and class versus time.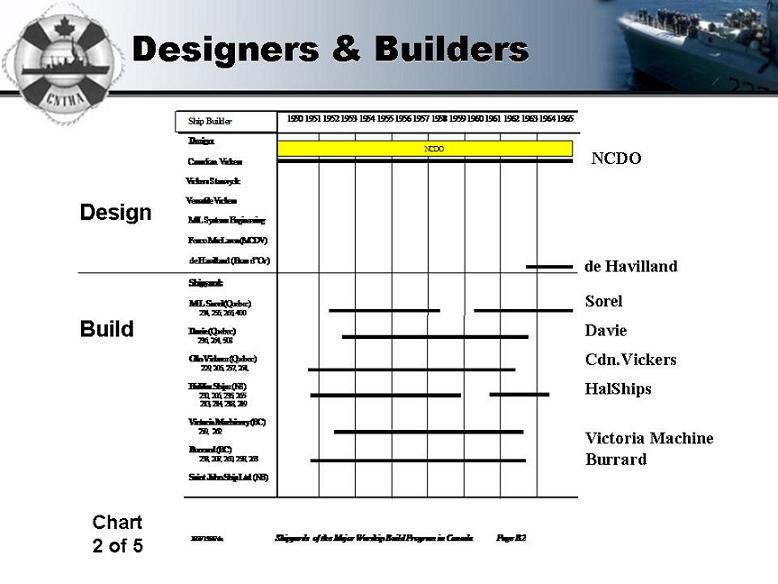 These data were then separated into their Design source and their Build source.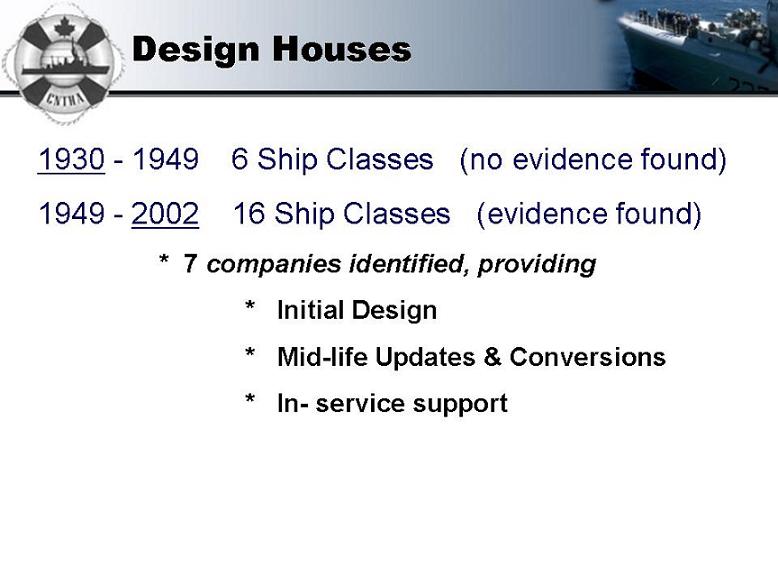 The Design data showed that there was no indigenous design until 1949.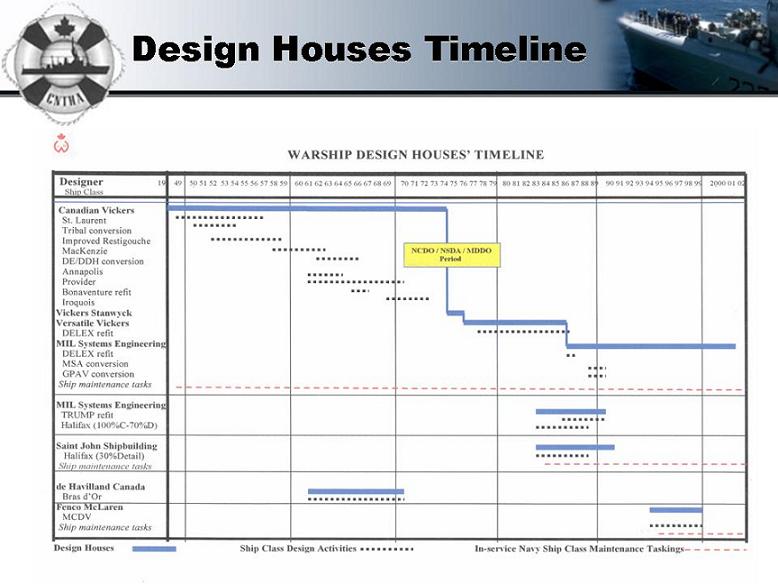 All ship Design versus Time was then charted to show the individual Canadian design houses. The majority of the designs was under the NCDO/MDDO contracting formula, and was mostly directed to the Design Team set up by Canadian Vickers in 1949 under the supervision of the Navy. That team transposed over time through 4 corporate entities, ending with MIL Systems Engineering. Other design contracts were awarded outside the NCDO/MDDO formula to:
MIL Systems:
Iroquois Class Modernization [TRUMP] (as a directed contract by DSS through Litton Canada, the TRUMP Prime).
Halifax Class (as a directed contract by DSS through Saint John Shipbuilding, the Halifax Class Prime).
Saint John Shipbuilding
de Havilland
Fenco McLaren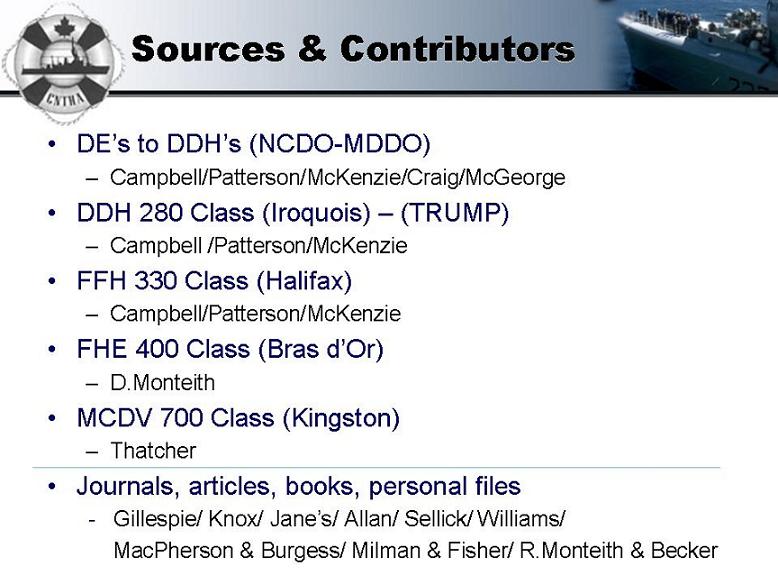 The foregoing provided direction as to where the history might lie, and individuals were contacted where known, and Companies contacted where individuals were not known.
The first three groups were within the NCDO/MDDO Corporate memories, and I was the President of the last of the Corporate entities for 10 years before my retirement. I consequently had direct access to the people involved and through discussions and draft notes was able to coordinate that history.
Bombardier/de Havilland Division was cooperative through their employee Dave Monteith for the BRAS D'OR.
SNC/Lavalin was cooperative through their employee Tony Thatcher.
Additional data were obtained from published articles and from personal files.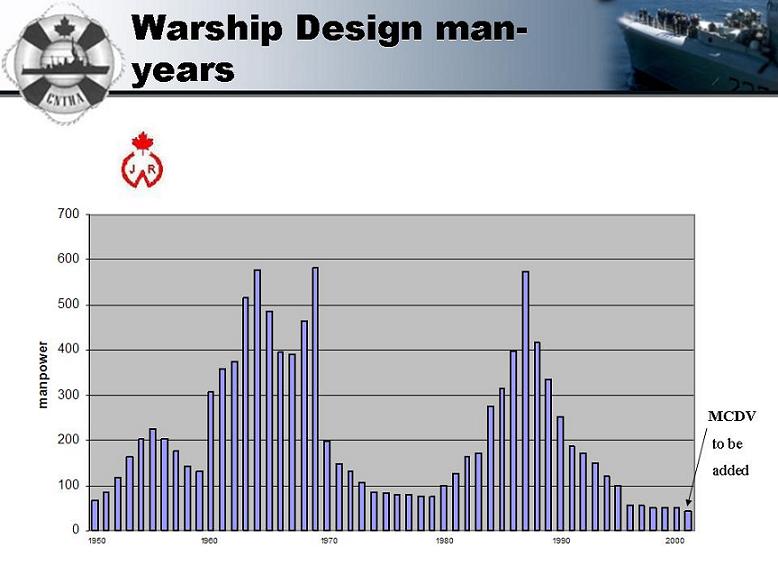 All the foregoing provided enough information to allow the construction of a single graph showing in general terms of Man-Years of effort, the contribution of Canadian Industry to the Design Base requirement of Canada's Navy 1949 to 2002.
The task is, of course, a continuing WORK IN PROGRESS and the first draft is available for review today.
The build-up charts, excerpts of which are shown in my first two slides are incorporated in full in Chapter 8 of the draft book.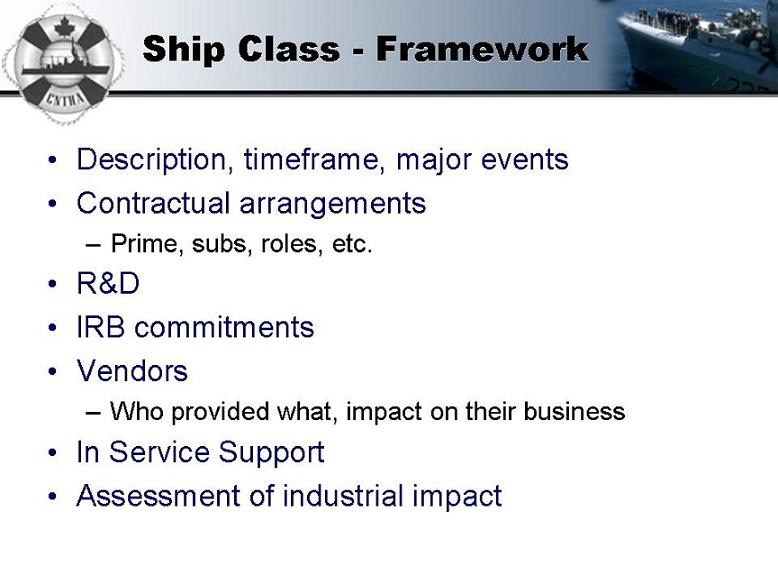 [Mike returned to the podium for the remainder of the briefing]
This slide outlines the framework that we are using for Ship Classes. --------- run down the list.
As you can see it runs across all the other segments and provides a project overview of the industrial impact of a given ship class.
In the interest of time we will not show the framework for the remaining three segments. As you can imagine, they relatively straightforward, and frankly, they are not as well developed yet.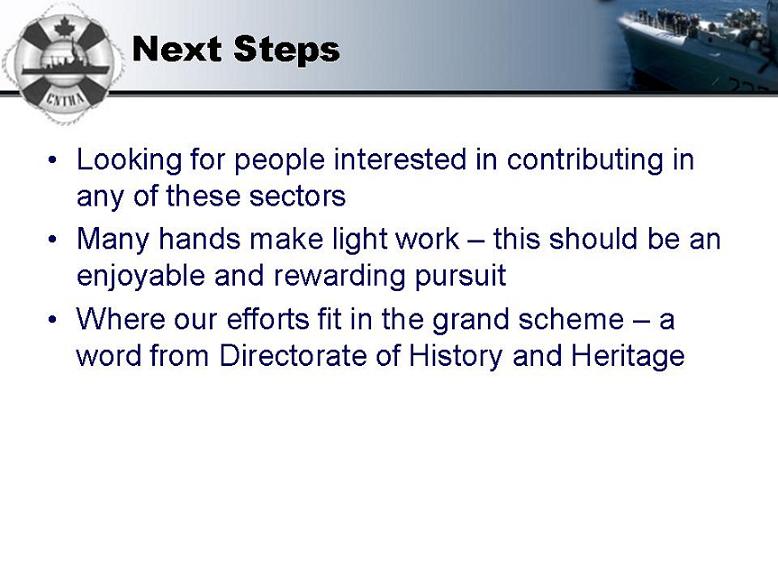 Next steps:
We are looking for people who are interested in contributing (we'll discuss what form in the next slide)
As noted here, many hands should make light work - most importantly, this should be enjoyable and rewarding (remembering past glories and perhaps past disasters)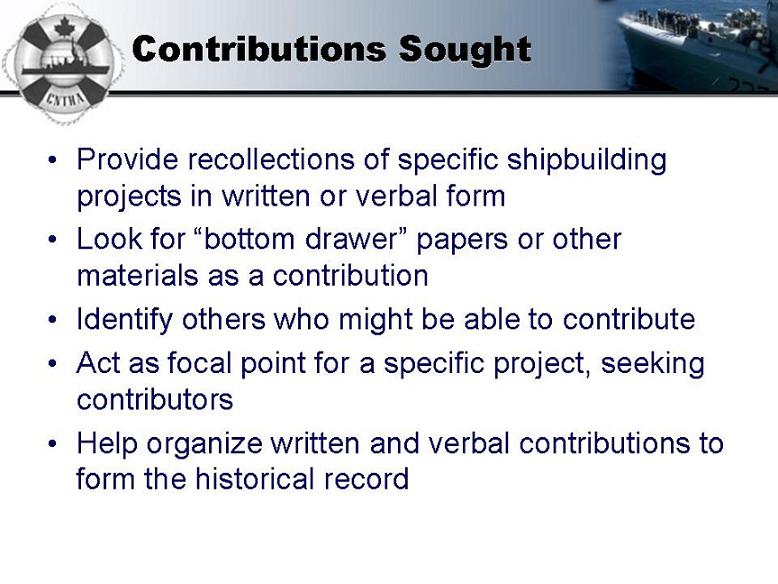 So what are we looking for, specifically?
[By Webmaster: Clockwise from the far end of the CANDIB meeting table: Mike Saker, Gord Smith, Don Wilson, the late Colin Brown, the late Douglas Hearnshaw, Tony Thatcher, Pat Barnhouse & the late Jim Williams].
Well that concludes the formal part of our presentation.
Before I open the floor for discussion I'd like to just say that I've been most impressed by the energy and enthusiasm of this particular group. I know that they went through some pretty difficult periods as they wrestled with what their mandate should be and how they should structure the project. I think that they are now poised to start doing some impressive work, along the lines that Jim has accomplished. In a sense the job will never be done - it should be a work in progress for years to come. However we would like to get the major frameworks fleshed out - then more details can be filled in over time.
If I can put my broader CNTHA hat on, I would also say that we are interested in all manner of naval technical activity - e.g., training, personnel, organization, etc. If you have something to contribute, we have a place to tuck it away so that it will be available for posterity.