HMCS Bras d'Or
Author: Don Wilson
Published: Apr 20th 2018
Updated: 3 years ago
---
This article begins an effort to add significant content related to the BRAS d'OR project. It is hoped that additional information will be available soon to add to this article.
This photo was taken by the author at Marine Industries, Sorel/Tracy shortly before BRAS d'OR departed for Halifax in 1968.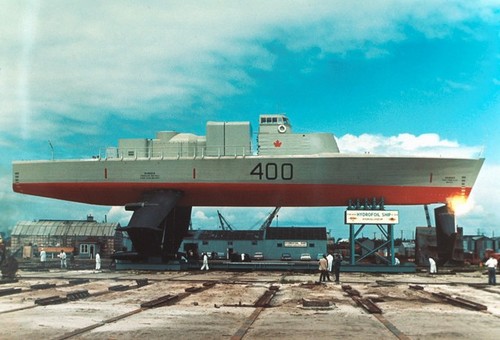 [Source: Wikipedia] HMCS Bras d'Or (FHE 400) was a hydrofoil that served in the Canadian Forces from 1968 to 1971. The vessel was originally built from 1960 to 1967 for the Royal Canadian Navy, as a project for the testing of anti-submarine warfare technology on an ocean-going hydrofoil. BRAS d'OR was commissioned into that service several months later. Changes in priorities and cost overruns later led to the project's cancellation.
During sea trials in 1969, the vessel exceeded 63 knots (117 km/h; 72 mph), making her the fastest unarmed warship in the world.