HMCS HURON
Author: Don Wilson
Published: Jul 29th 2012
Updated: 7 years ago
---
HMCS HURON - a partial history
Captain (N) Don Wilson, P.Eng, CD RCN (Ret'd)
One of four DDH 280 Tribal Class helicopter destroyers, HURON, along with her sister IROQUOIS, was built by Marine Industries in Sorel/Tracy, Québec. Steel was laid down for both Tribals in 1969. Following successful Contractor's Sea Trials, IROQUOIS was commissioned in July and HURON was commissioned in Sorel - on December 16th, 1972.
Here is a photo taken as the Contractor's Engineer Officer, Gordon Smith, turns over the HURON machinery system "ignition" key to Don Wilson, HURON's Engineer Officer on commissioning.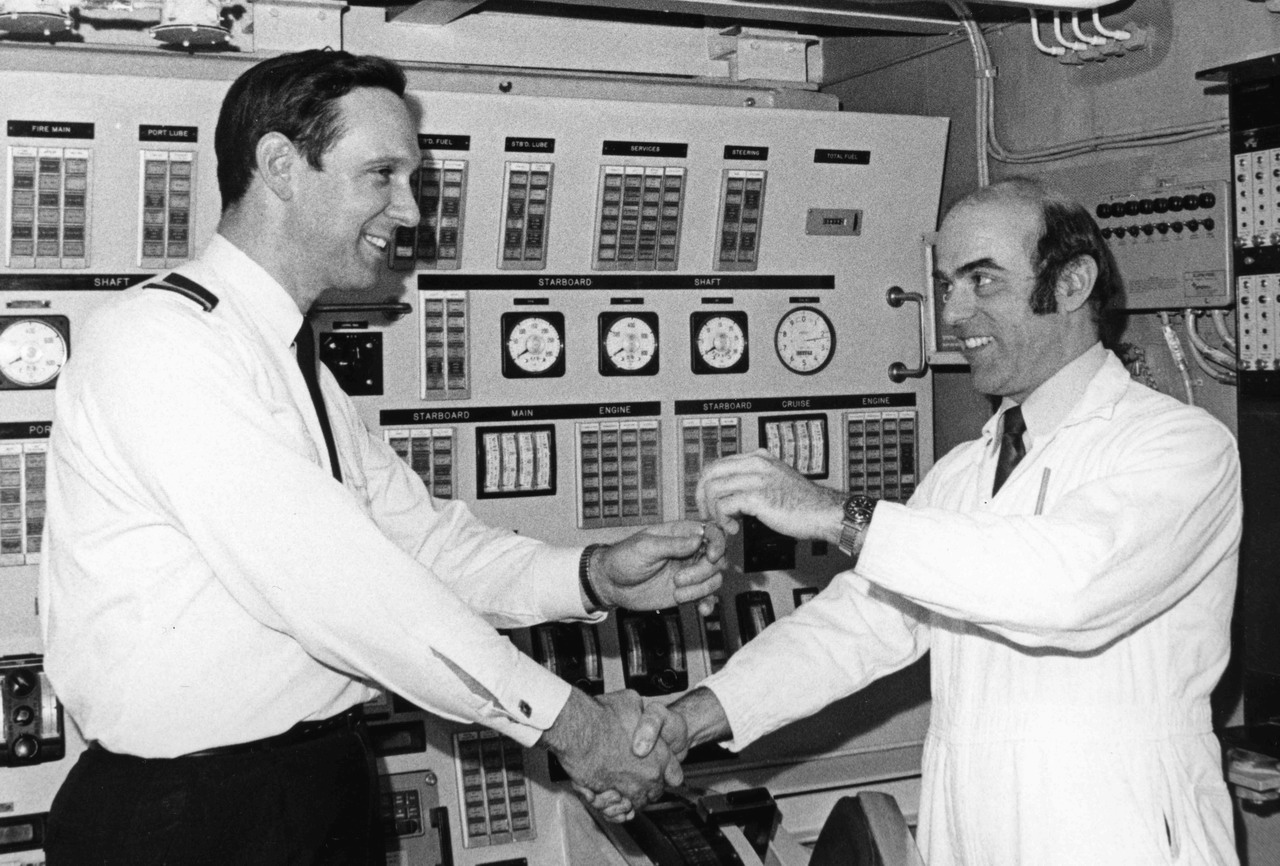 After a period of additional trials including first-of-class helicopter trials, HURON joined the Atlantic fleet.
It should be noted that the helo trials are normally carried out on the first-of-class ship - IROQUOIS in this case. Since Cdr Doch MacGillvray, CO of IROQUOIS had not previously commanded a DDH, the helo trials were carried out aboard HURON where Cdr Dick Hitesman, HURON's CO on commissioning, had previous shipborne helo experience as CO of MARGAREE.
HURON proved a worthy vessel that helped demonstrate the value of this Class of vessel to the Canadian Navy and served on both the Atlantic and Pacific Coast fleets.
HURON joined her sister ships IROQUOIS, ATHABASKAN and ALGONQUIN in the Tribal Class Update and Modernization Project (TRUMP) and was the fourth through that process, returning to the Fleet in November, 1994 when her designation changed from DDH to DDG. HURON was re-deployed to the Pacific Fleet where she provided sound support for the West Coast Navy at home and abroad. Here is a post-TRUMP photo of HURON.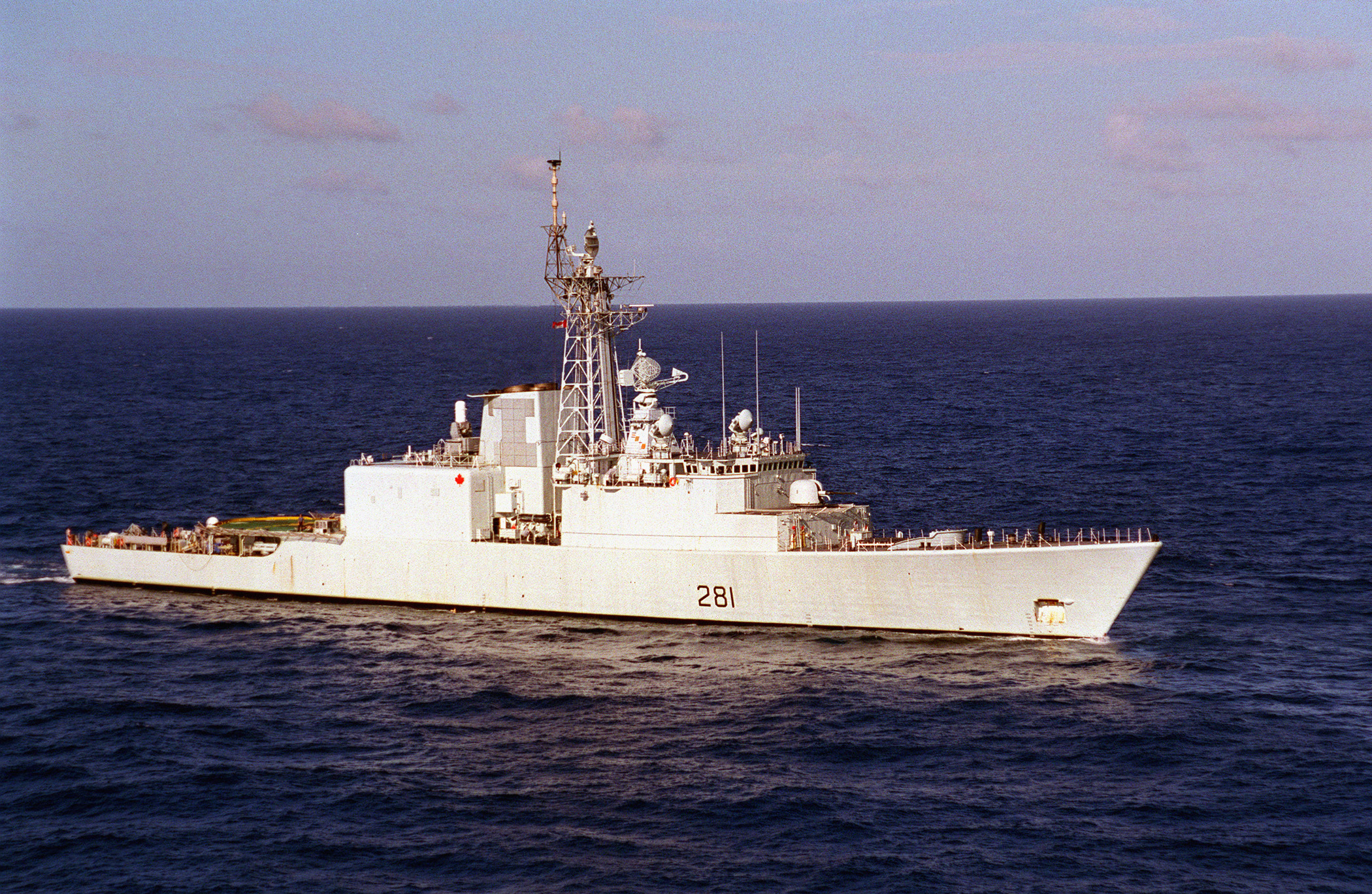 Over time it became apparent that there were not sufficient personnel numbers to support the operation of two Tribals based in Esquimalt and as a result, in 2000, HURON was placed in mothballs. Five years later she was paid off for disposal.
In 2006 HURON was assigned target status for a sinking exercise as part of Operation TRIDENT FURY. A mixture of Maritime Command Pacific and US Navy ships and submarines and Air Command CF-18's were given an opportunity to bombard HURON until she sank. Before being towed to the offshore weapons range west of Vancouver Island, HURON was stripped of her armaments and environmentally harmful contaminants. On May 14, 2007 bombardment began with Sea Sparrow missiles and gunfire. Ultimately, it was ALGONQUIN's gun that was responsible for the sinking. Somewhat ironically that gun had originally been fitted in HURON! Many will have seen the History Television documentary entitled "Sinking a Destroyer" that described what happened on that day in May, 2007 off Canada's west coast. This series of photos shows HURON slipping into the Pacific Ocean.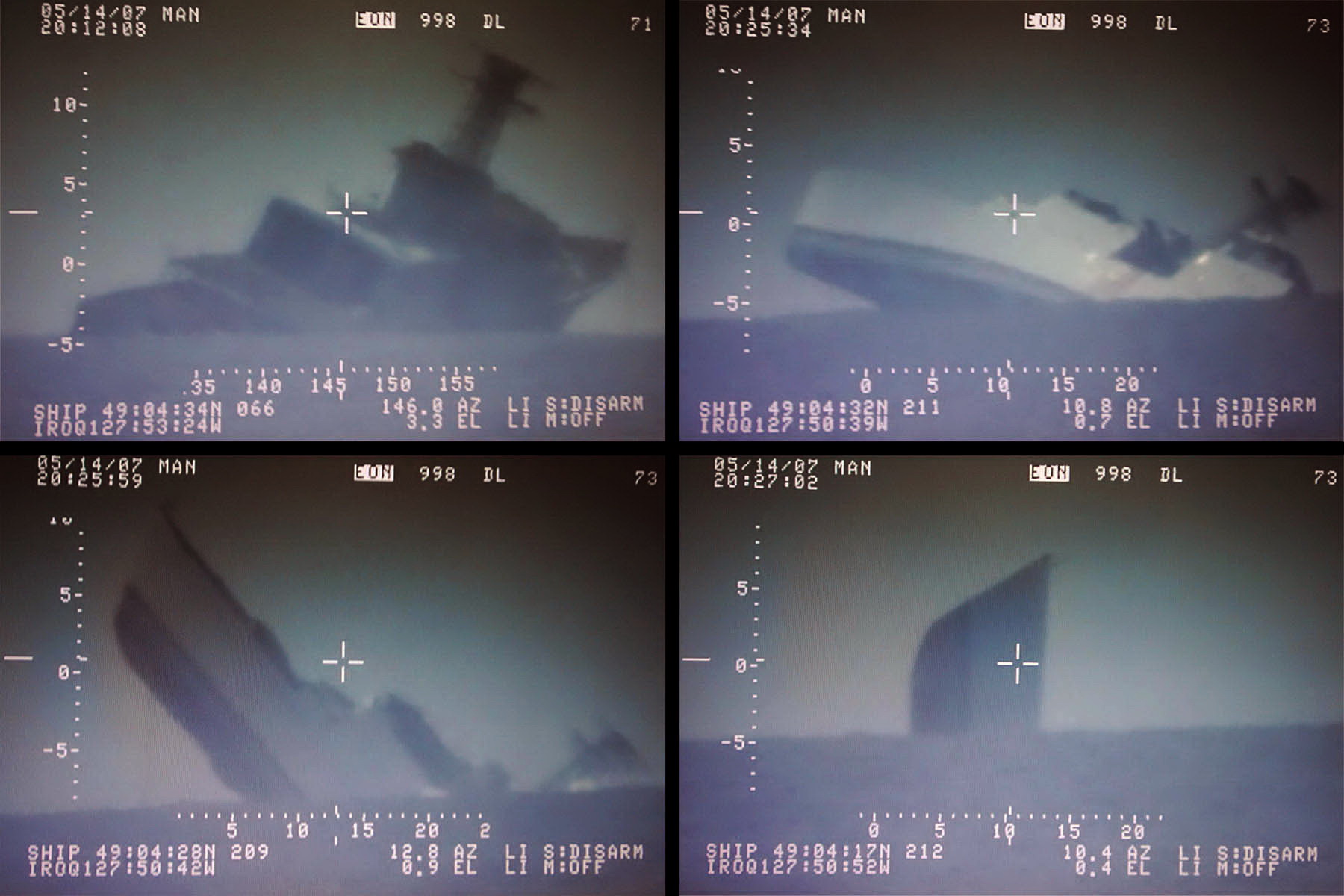 HURON was remembered by approximately 30 former HURON's who gathered in the HMCS BYTOWN Officers Mess in Ottawa on the day of the sinking. To read about that memorable day, please visit the CNTHA Newsletter page for an article by Don Wilson.
And HURON was to live on elsewhere when, in June, 2012, HURON's port propeller was installed in a static display at Calgary's Military Museum. The author was able to visit HURON's propeller display at the Calgary Military Museum soon after the display was completed. The first photo is of the propeller display.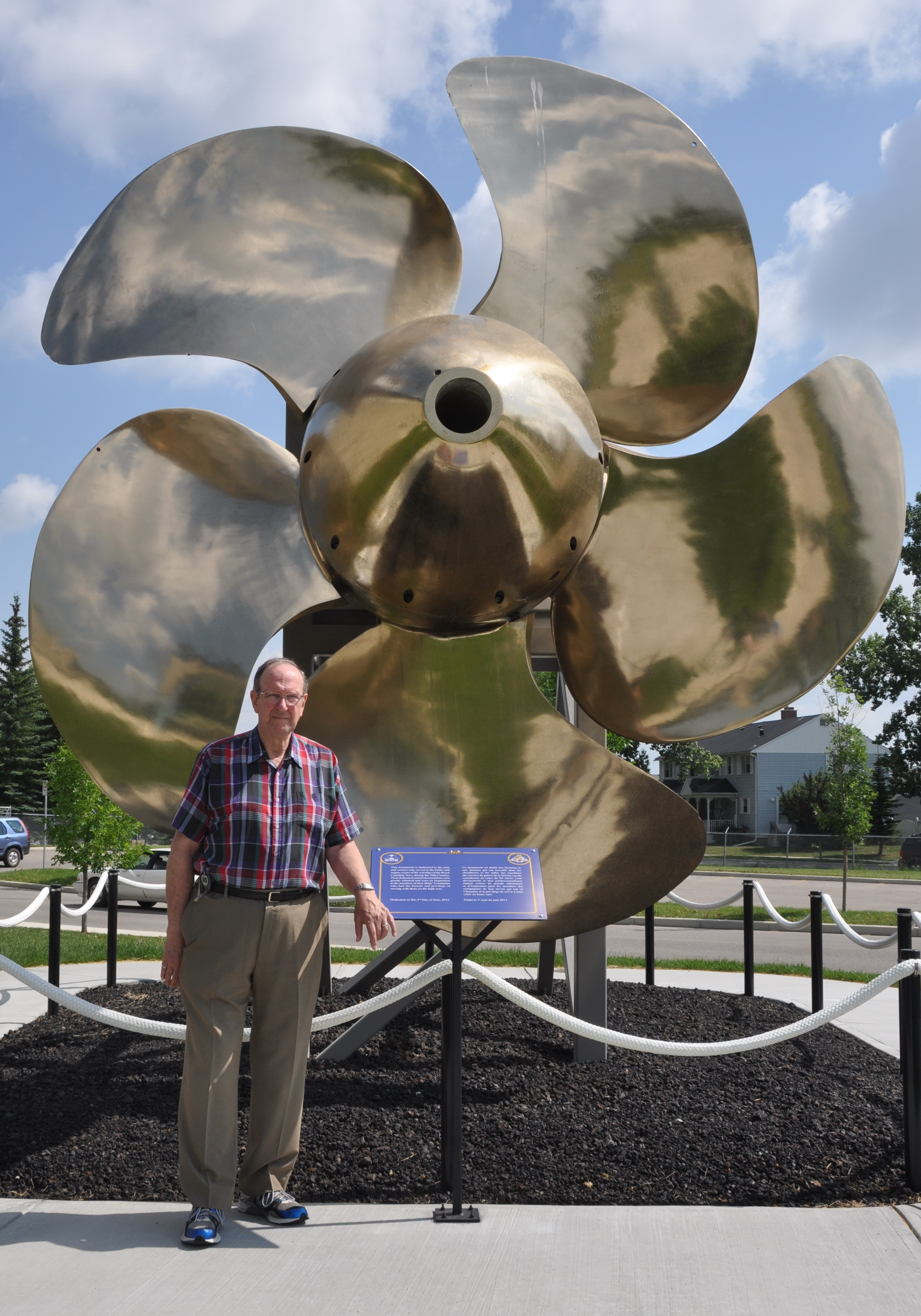 …and here is a photo of the plaque with the story of HURON's port propeller display.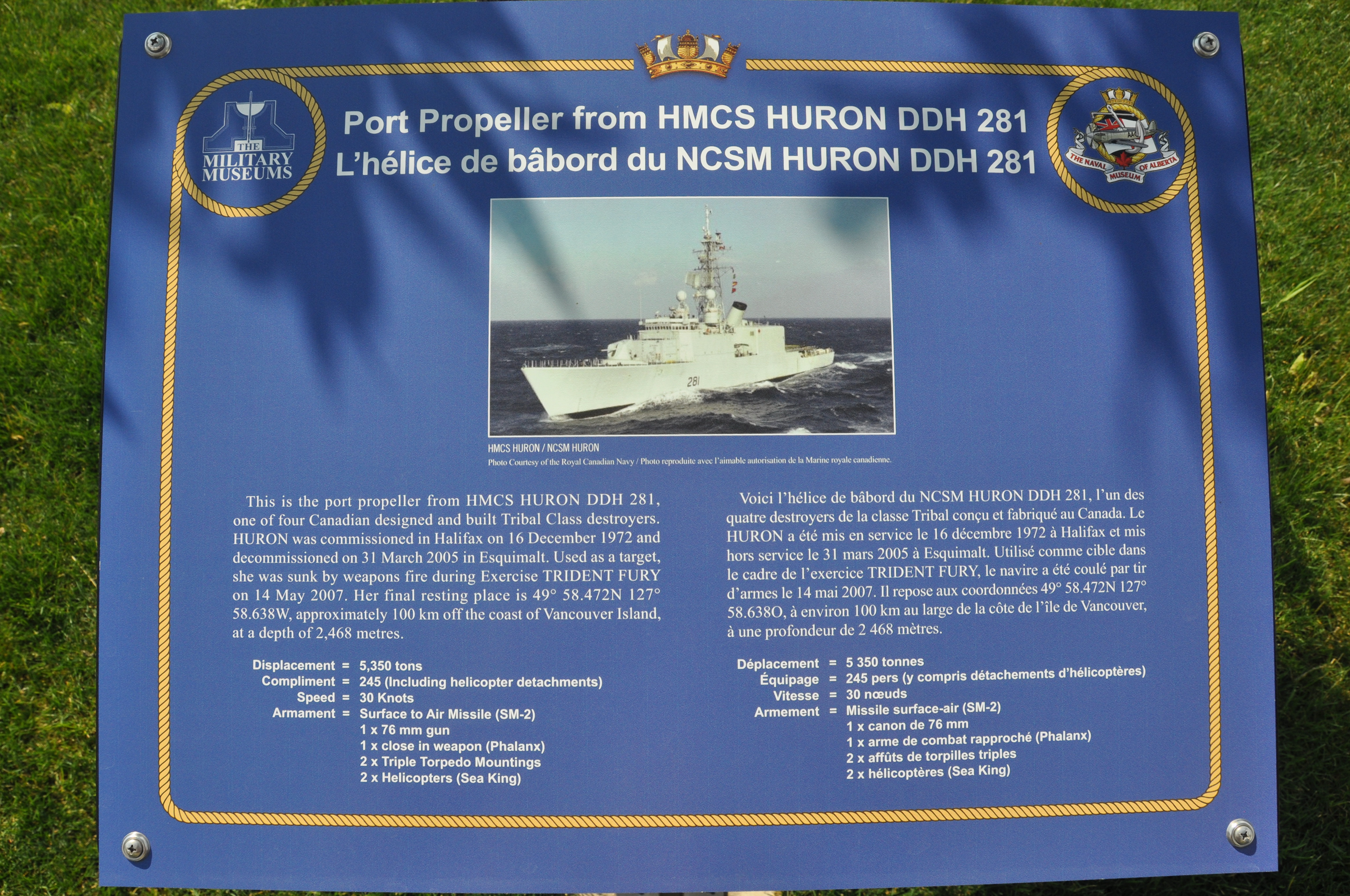 [This article is based on the author's personal experience as the Engineering Staff Officer on the staff of 202 Canadian Forces Technical Services Detachment (202 CFTSD) performing Quality Assurance surveillance duties at Marine Industries during both IROQUOIS's and HURON's building and as HURON's Engineering Officer on commissioning December 16th, 1972. In addition, some information was obtained from Wikipedia].