Our Ships
Author: Don Wilson
Published: Aug 2nd 2009
Updated: 3 years ago
---
This page and all related to it provides an outline of the Fleet Ship Classes to which other pages will eventually be linked with more detailed information. Not all ships that served Canada are listed - for example, the USN submarines loaned to Canada.
Note also that a number of the earlier ships such as the Cruisers, Tribal and "C" Class destroyers were built in the U.K. as, indeed, were the Carriers and, subsequently, the Canadian submarines.
A number of the Minesweepers were sold to be converted into yachts or commercial vessels.
The Iroquois Class (DDH 280's) has been used as a prototype showing what may be included in the detail pages. This area of the site is very much a work in progress.
Cruisers - 2
QUEBEC (UGANDA)

A cruiser from the RN that was based in Halifax until its decommissioning and disposal

ONTARIO (MINOTAUR) -

This stalwart vessel was home to many cadets in its role as a Cadet Training ship. The author was aboard for VENTURE Cadet Training cruises in 1955 and 1956. Photo 1 in the Esquimalt Graving Dock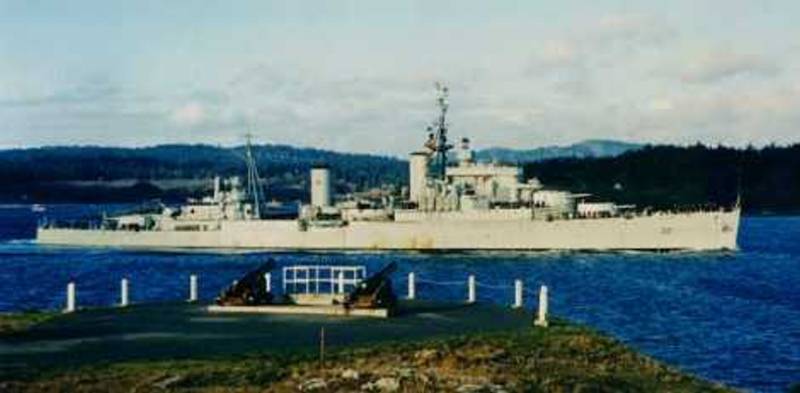 Light Carriers - 3
WARRIOR
MAGNIFICENT
BONAVENTURE


Only one in service at any one time and the latest being BONAVENTURE
Tribal Class - 8
ATHABASKAN (first Tribal in that Class with that name).
HAIDA


in Hamilton, Ontario - 2018-05-01

HURON

IROQUOIS
NOOTKA
MICMAC
CAYUGA
ATHABASKAN II (the second Tribal to bear the name)
V Class Destroyers - 2
ALGONQUIN
SIOUX


Off the coast of Mexico, 1955. Cadet Don Wilson photo
C Class Destroyers - 2
CRUSADER
CRESCENT
Prestonian Class Frigates FFE's - 24
ANTIGONISH
STONETOWN
BEACON HILL

One of seven in the 4th Canadian Training Squadron, based in Esquimalt. Don was Engineer Officer from 1962-1965

NEW WATERFORD
LA HULLOISE
SWANSEA
PRESTONIAN
INCH ARRAN
STE. THERESE
OUTREMONT
STETTLER
FORT ERIE
SUSSEXVALE
BUCKINGHAM

Pre-conversion photo

NEW GLASGOW
PENETANG
CAP DE LA MADELEINE
JONQUIERE
TORONTO
VICTORIAVILLE
LANARK
LAUZON
ST. STEPHEN
ST. CATHARINES
Icebreakers - 1
St. Laurent Class DDE - later - Improved St. Laurent Class DDH - 7
ST. LAURENT
ST. LAURENT (Improved)
SAGUENAY
SKEENA
OTTAWA
MARGAREE
FRASER
ASSINIBOINE
Bay Class Minesweepers - 14
CHALEUR
CHIGNECTO
COMOX (sold after 3 years service to a foreign navy)
COWICHAN
FORTUNE (sold after 10 years service into mercantile service)
FUNDY
GASPÉ (sold after 4 years service to a foreign navy)
JAMES BAY
MIRAMICHI
QUINTE
RESOLUTE
THUNDER
TRINITY (sold after 3 years service to a foreign navy)
UNGAVA (sold after 4 years service to a foreign navy)
Escort Maintenance Vessels 2
CAPE BRETON
CAPE SCOTT
Oberon Class Submarines - 3
Restigouche Class DDE's - 7
RESTIGOUCHE
CHAUDIERE
GATINEAU
ST. CROIX
KOOTENAY
TERRA NOVA
COLUMBIA
MacKenzie Class DDE's - 4
MacKenzie
SASKATCHEWAN
YUKON
QU'APPELLE
Annapolis Class DDH's - 2
AOR's
PROVIDER - 1963-1998
PROTECTEUR
PRESERVER
Hydrofoils
BRAS D'OR

Canada's hydrofoil ship completing construction in Marine Industries Limited, Sorel/Tracy in 1968. Don Wilson photo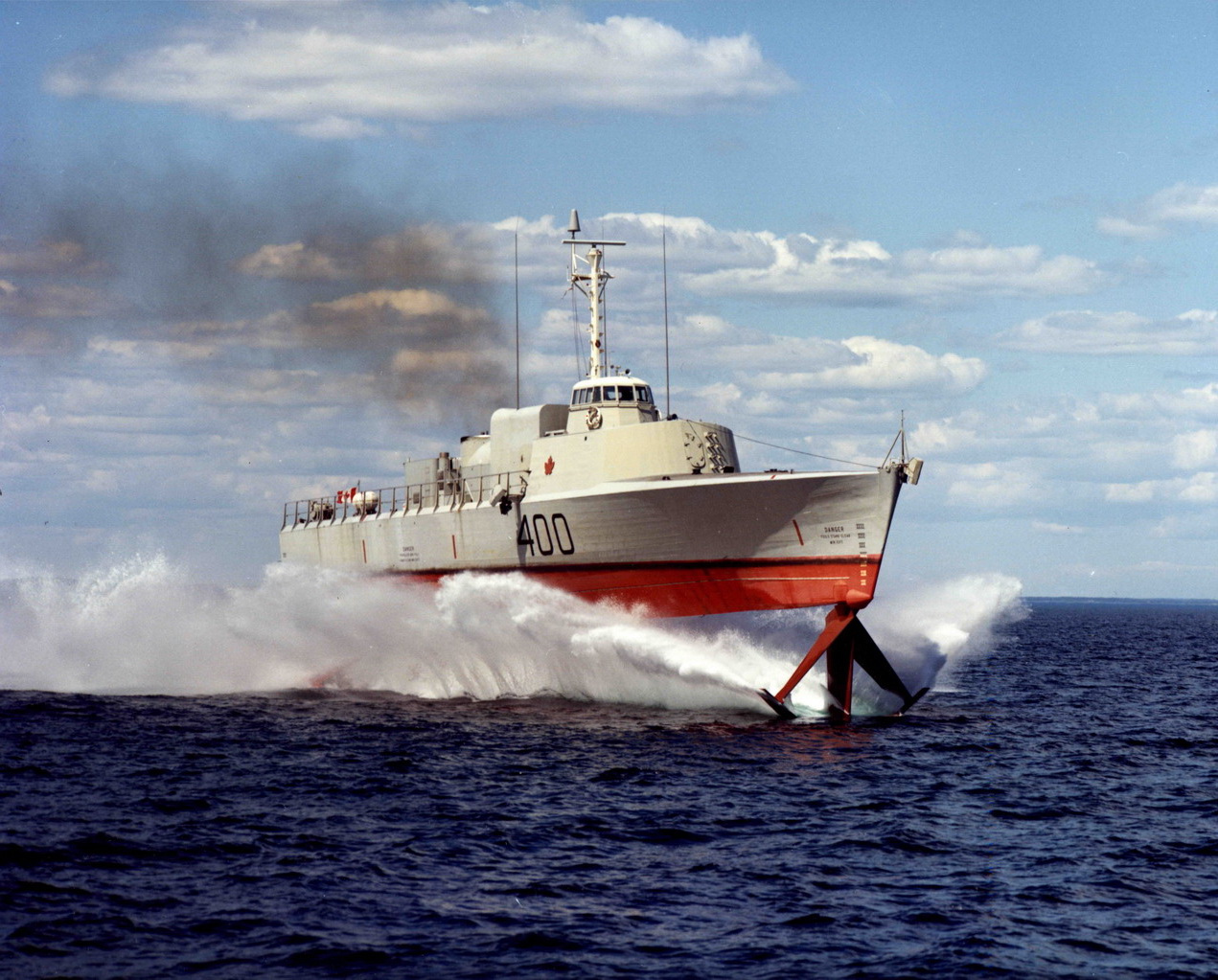 Iroquois Class and TRUMPed DDH 280's
IROQUOIS
There were many photos taken during the building of IROQUOIS and HURON in Marine Industries, Sorel/Tracy, PQ.
HURON - After a good period of service on the West Coast, HURON was decommissioned, mothballed and then designated as a target for a Can/US joint Sinkex off the west coast.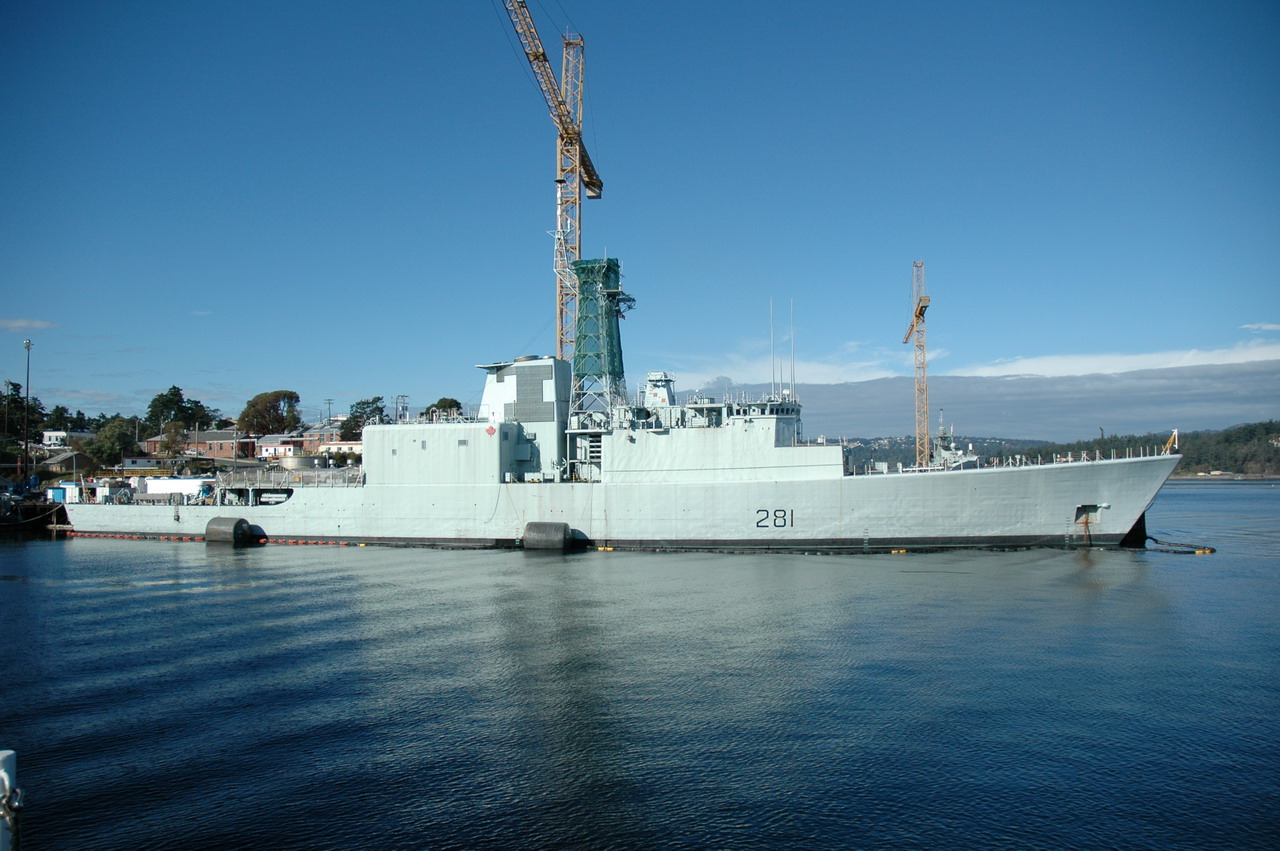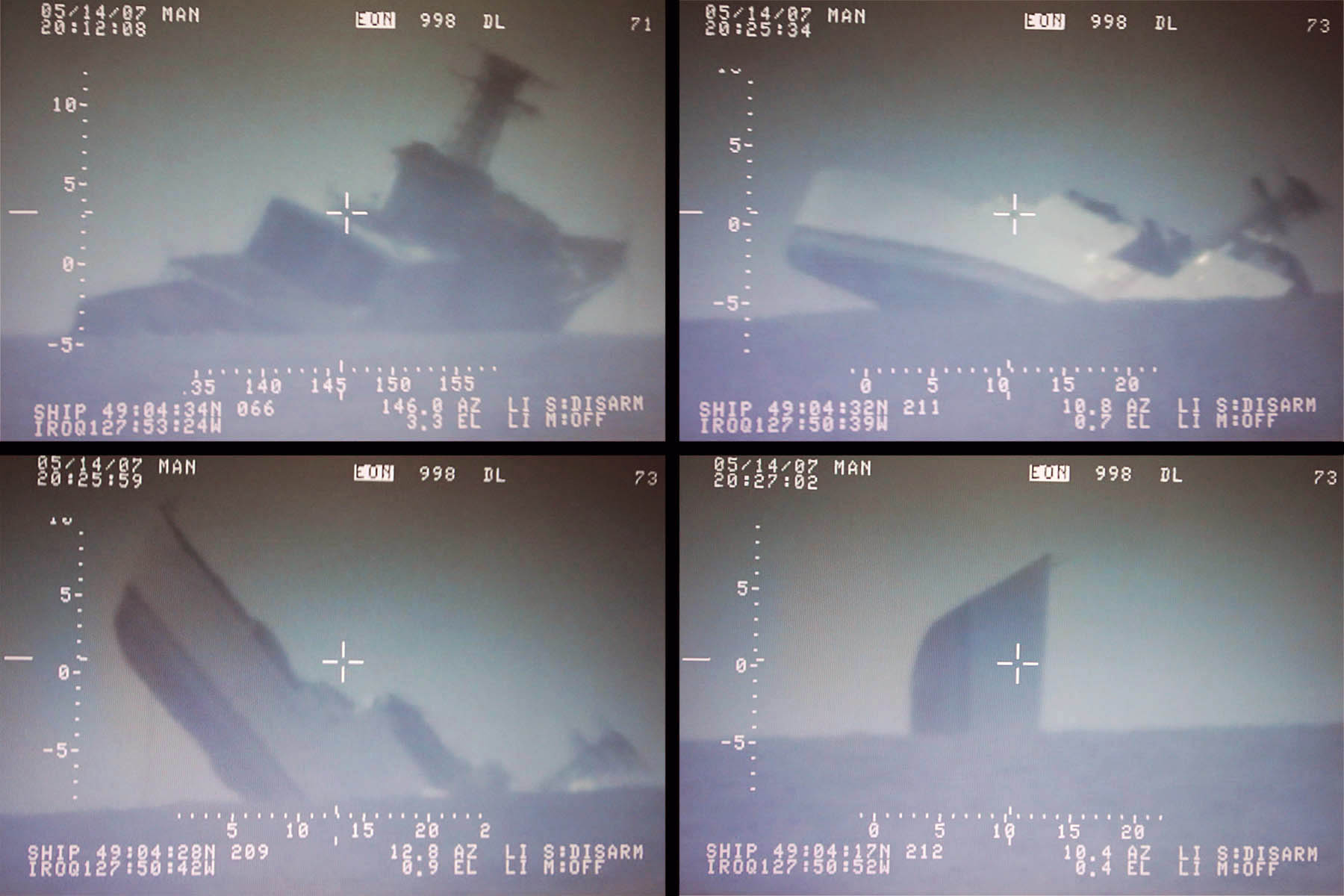 ATHABASKAN - the third RCN destroyer with that name.
ALGONQUIN
Canadian Patrol Frigates FFH - 12
HALIFAX
VANCOUVER -

and the USS Stennis

VILLE DE QUEBEC
TORONTO
REGINA
CALGARY
MONTREAL
FREDERICTON
WINNIPEG
CHARLOTTETOWN
ST. JOHN'S
OTTAWA
Kingston Class Coastal Defence Vessels MCDV's - 12
KINGSTON -

Lead ship of the class

GLACE BAY
NANAIMO
EDMONTON
SHAWINIGAN
WHITEHORSE
YELLOWKNIFE
GOOSE BAY
MONCTON
SASKATOON
BRANDON
SUMMERSIDE
Victoria Class Submarines - 4
VICTORIA -

Lead boat of her class

WINDSOR
CORNERBROOK
CHICOUTIMI
Orca Class (8) A note on the Haze Grey & Under Way website states that these craft will not be commissioned into the Navy, nor will they officially be part of the auxiliary fleet.