What's New
Author: Don Wilson
Published: Nov 7th 2009
Updated: 2 years ago
---
This page contains news of developments at CNTHA of interest to volunteers and others.
2019-04-11: CNTHA learned recently of the passing of Vice-Admiral Robert Saint George Stephens. Bob became a Naval Cadet, RCN in September, 1941 and retired as a Vice-Admiral in 1979. He served his country well in a variety of positions in various parts of Canada and overseas. He was interviewed by a team of CNTHA supporters at a CANDIB meeting held April 17, 2008 where he spoke about his impressive career. That interview transcript can be found here. Admiral Stephens passed away in England, April 9th, 2019 at the age of 95.
2019-03-29: CNTHA prepares to be on display at CIMarE's here Mari-Tech 2019 April 23-25.
2019-01-17: Peter MacGillivray became the CNTHA Webmaster and Don Wilson assumed the position of Webmaster Emeritus.
2018-10-19: Peter MacGillivray has assumed the role of Assistant Webmaster.
2018-09-26: Two more papers have been added. "SHINPADS - Shipboard Integrated Processing and Display System - June 1978" and "Ship System Integration and Local Communication Networks - Oct 1980". Click here] and here.
2018-08-19: Two new papers have been added to the Technology page. Visit that page to see "Tactical Data Systems & Data Link Development" and "Marriage of the small Ship and the LARGE Helicopter". Click here to go to the Technology page.
2018-07-04: A new paper added: "SHINPADS - A New Ship Integration Concept", author: Jim Carruthers. Jim's paper may be found by clicking here
2018-05-25: CNTHA Meeting. At this meeting attendees began a discussion of the website and the need to boost efforts to obtain new content. It was indicated the following should be considered:
Ship class tags should be added;
Can hovering over the listings of older issues of the Maritime Engineering Journals result in the display of the publication cover?
Further discussion with our host pointed out that to provide "hovering" would require a great deal of work. The suggestion will be taken under consideration and a final approach will be reported.
The Webmaster is in the process of reviewing content to determine what other material might be requested from website visitors. Members are encouraged also to bring forward any suggestions for further website work.
At this meeting it was noted that Simon Page is leaving his current post as DGMEPM this summer. He has been succeeded by Commodore Chris Earl. It is hoped that CNTHA will be able to arrange a meeting with Commmodore Earl for a briefing on the breadth and scope of the work undertaken by CNTHA as the preserver of Canada's Naval Technical History.
2018-05-02: CNTHA Website – Search for Content
Background
CNTHA's rebuilt website resulted from a serious hack. Clearly the Joomla-based website was by no means impervious and a new site was called for.
Discussion
The new and current website was developed by Jeff Wilson – a static site more impervious to hacking than its Joomla predecessor. It has proven to be a move in the right direction. Our website continues to grow as content is added with information received from a number of CNTHA supporters but it would seem that this well has started to dry up. Over the past few months, little content has been received to be added to our website.
It is hoped that discussions opening up with MEPM staff as a result of the recent MEPM-CNTHA MOU will lead to some welcome added content for our website. It is quite likely there is information in the MEPM files that will have historical value and which would be appropriate for posting to our website. CNTHA's objective would be for the CNTHA website to be seen as MEPM's Naval Technical History "place to go".
Request
CNTHA members are invited to dig into their own Naval Technical documents to see if there is some interesting historical information lurking there that might be brought forward for posting to our website. This link is to our website's "What's New" page that may provide some food for thought: http://cntha.ca/about-cntha/whats-new/index.html.
A letter will be prepared to be sent to DGMEPM asking the MEPM staff to review their files in search of content that would be appropriate for posting to our website.
2017-11-30: At this regular meeting of CNTHA, Commodore Simon Page, DGMEPM participated in a good discussion. Tony Thatcher, Executive Director, briefed DGMEPM on the form and structure of CNTHA, noting that this group of volunteers was continuing to build a strong collection of historical documents. As noted earlier, CNTHA and DGMEPM had signed an MOU in January of this year and the discussion today served to expand on the significance of that MOU and the working relationship between the MEPM Division and CNTHA. The CNTHA objective, to preserve Canada's Naval Technical history, was the backdrop for an excellent exchange of views and ideas for collaboration in the future. Here are two photos taken at that meeting.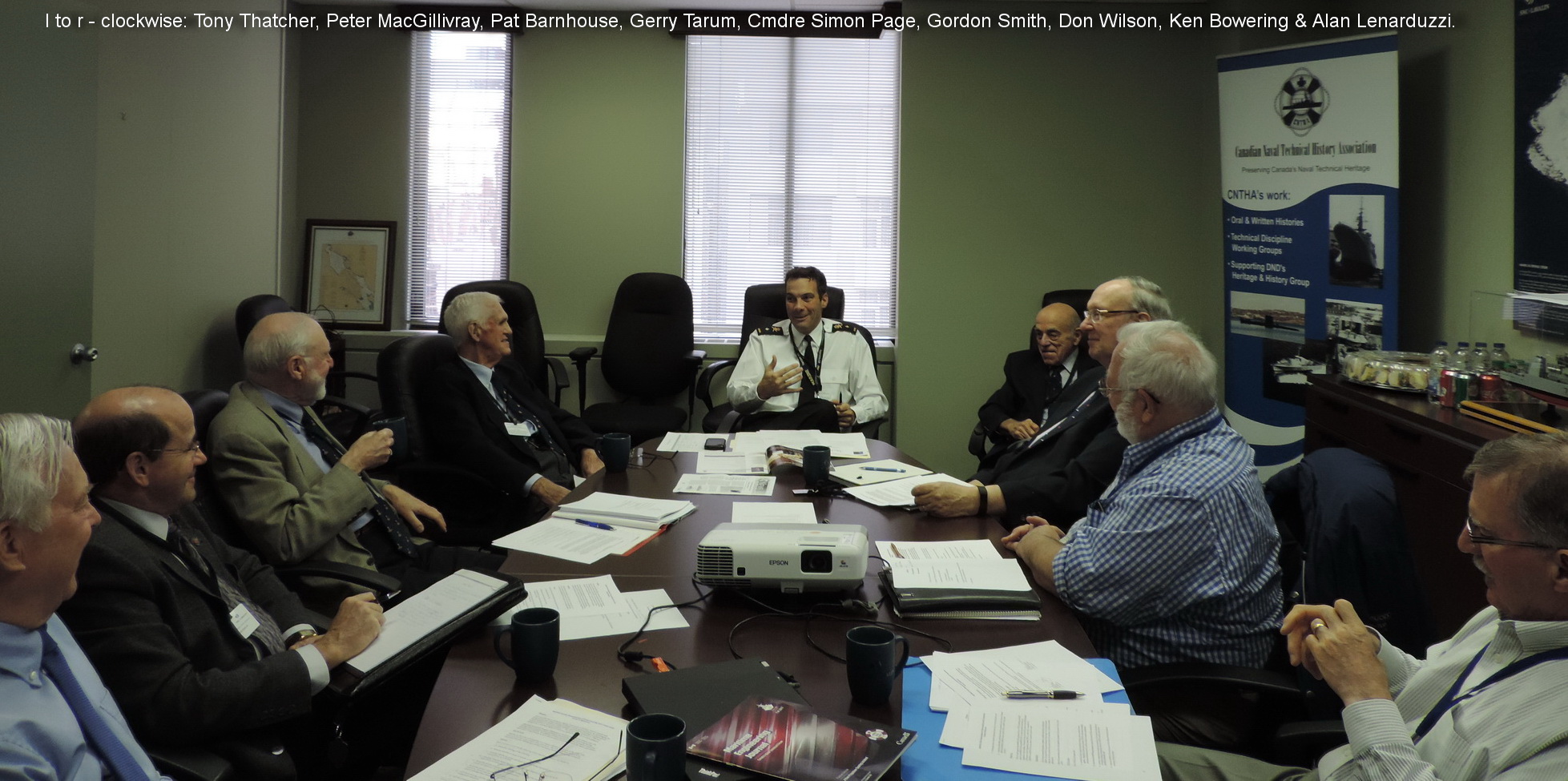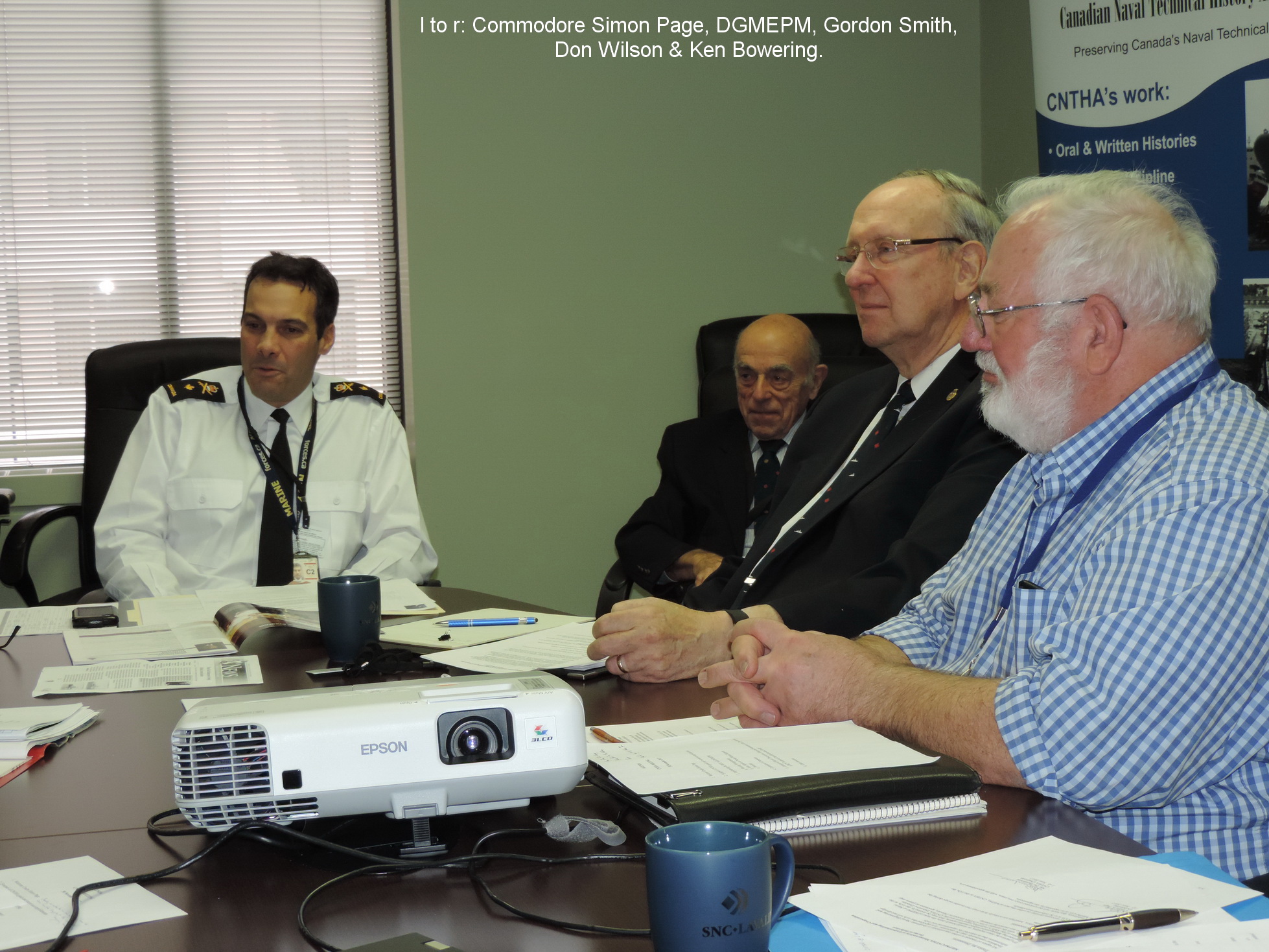 2017-10-14: It is time once again to reach out to readers to invite them to share any material they feel would be of interest to CNTHA-adherants. We are always on the lookout for any technical information, news or personal recollections that we can add to this website. Please share your information with us by email - addressed to "[email protected]".
2017-08-12: CNTHA recently posted an interesting interview transcript for which the subject is CANEWS. Visitors are invited to read the posting and, if so inclined, to offer comments by sending an email to "[email protected]".
2017-06-22: Commodore Simon Page, DGMEPM and Pat Barnhouse, CNTHA Chairman recently signed a Memorandum of Understanding and Cooperation. CNTHA's primary aim is to capture and preserve oral and written records of Canada's naval technical history by encouraging the establishment of a culture in which naval technical history is preserved and made accessible to future generations. The Maritime Equipment Program Management Division (MEPM) can support this role through better awareness and coordination between the current naval engineering enterprise and CNTHA. In addition, CNTHA can thus become better informed of activities and events of significance so as to ensure these events are captured for future generations. Clearly the MOU will benefit both organizations.
2017-05-03: The first block of replacing attached Adobe versions of Oral and Written Histories with webpages has been completed. There will be some minor touch-ups over the Summer but the major work has been done. CNTHA wishes to thank Jeff Wilson for all the work he has done in providing to CNTHA a new and much more secure website for which he also provides the hosting services. Needless to say, our Webmaster is also very pleased with the replacement of the vulnerable Joomla-based website by the new site now available.
2017-04-21: Work has begun on a project to post the Oral and Written Histories as webpages rather than as Adobe-based documents linked to a webpage. This is being done so that the Histories contents can be searched by this site's effective Search engine. This project will take some time but some results should be seen later this summer.
2017-03-18: CNTHA is coming to a landing on its new server. If you notice any unusual behaviour needs some attention please drop us a line.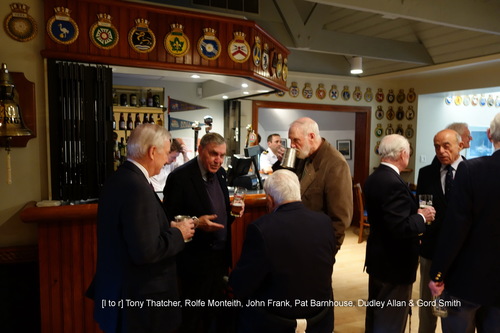 2015-10-06: A CNTHA team meeting was scheduled to coincide with a visit to Canada by CNTHA's UK-based team member, Captain Rolfe Monteith. As we expected, Rolfe made good contributions to the team meeting that also was attended by our DHH key contact, Senior Naval Historian Mike Whitby.
2015-09-26: A slight modification has been made to one of our archiving sections. The expanded Collection xtracts section has been re-named the Library. It is intended to archive there relevant information shared with CNTHA in electronic format. The first entry is three files shared with us by Jerry Proc, a noted archiver himself.
2015-06-20: The CNTHA Goals were posted to this site and can be found as a new item in "About Us" - the lead item in that drop-down menu.
2014-12-08: A new feature has been added to this website. Anyone wishing to ask us a question, volunteer to be interviewed for our Oral and Written Histories page, or comment on our website and services, may now send us an email message to "[email protected]".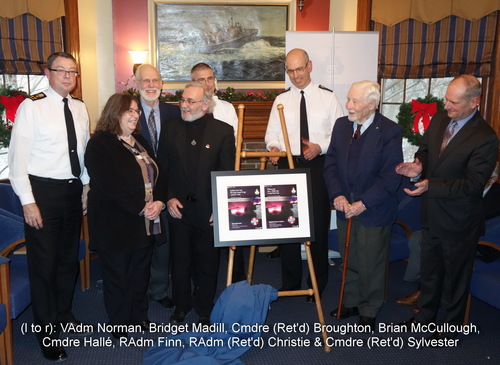 2014-11-26: Members of CNTHA gathered at the HMCS BYTOWN Officers Mess for the Launch of the 75th issue of the Maritime Engineering Journal. Present were approximately 40 persons interested in the Naval Engineering community including the Commander, RCN, VAdm Mark Norman, RAdm Pat Finn, Cmdre Marcel Hallé and several former Chief Engineers of the Navy. From CNTHA, the Chairman, Pat Barnhouse and the Executive Director, Tony Thatcher along with several others were present. There were a number of presentations made during this very interesting but informal event all to celebrate the benefits to the Naval Engineering profession provided by the Journal. Visitors to this site will be aware that the complete archive of the Maritime Engineering Journal can be found under Publications - or follow this link the Journal page. Photos taken at the Launch will be added to this page in due course. In the meantime, the pamphlet provided by DND at the event has been scanned. Here is the pamphlet link.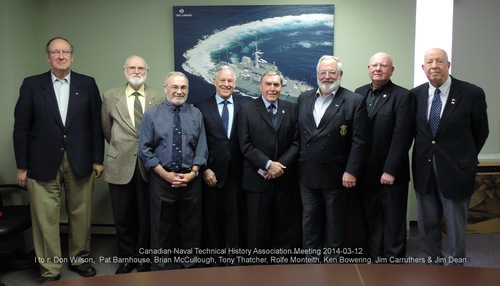 2014-03-12: The CNTHA Committee Members were pleased to welcome to our meeting our Member from the U.K., Rolfe Monteith. During the meeting, our Executive Director took the opportunity to provide a briefing on CANDIB and other work done by CNTHA to date and with an outline of work still to be done. Tony Thatcher's paper may be found by clicking here.
2013-09-01: Regular visitors to this site will realize a change has been made. We have recently moved the site to another host and, at the same time, enlisted the assistance of a developer to upgrade our website software. This has been done to increase our security and to update the "look and feel" of our site. A new photo Gallery is under development and will be expanded as volunteer time permits. Please enjoy our new look and should you have any comments, direct them to one of the contacts on our Contact Us link at the bottom of all website pages.
2013-03-16: A new feature has been added to this site. We have begun listing HMC Ships Commissioning, Naming and Acceptance dates and linking to scanned copies of the associated booklets. The first to be posted is to record the Acceptance of HMCS GATINEAU after she received an IRE conversion. Go to the Commissioning, Naming and Acceptance Booklets under the Publications menu item or click here.
2012-12-17: Those visiting this site who may be interested, will find a complete archive of all CNTHA Newsletters - as far back as Issue #1 in March of 1997. To view these Newsletters, please click on CNTHA News.
2012-11-28: Unfortunately, it has been found necessary to turn off the Comments feature when over 30,000 inappropriate comments appeared in our Photo Gallery. All the photos remain visible to visitors.
2012-11-18: Visitors wishing to review current and past issues of the Maritime Engineering Journal may now view all issues right back to the first issue in 1982. A complete archive is available on the Journal page of this website.
2012-09-13: At the regular CNTHA meeting this date, the Chair confirmed the establishment of a Website Editorial Board. Members of the Board, who will provide advice to the Webmaster on website content, are Pat Barnhouse, Tony Thatcher, Brian McCullough and Don Wilson.
2012-07-25: The Webmaster visited Calgary's Military Museum and there had an opportunity to visit the display of the port propeller taken from HMCS HURON. For additional details, please visit the article written as a partial history of HURON.
2012-06-25: Work has begun to scan old issues of the Maritime Engineering Journal so that the Journal page on this site eventually will be the principal archive for this professionally valuable series of publications. All published Journals have been listed and as scanning is completed a Journal will be uploaded and linked to the Journal web page. It is recommended that visitors to this site check back regularly to see what's new.2012-05-30: Work is proceeding on establishing new links to marine-oriented organizations starting with the Canadian Naval Review. On this date, this website was moved and is now under the care of a new host in Ottawa - closer to CNTHA's main centre of operation.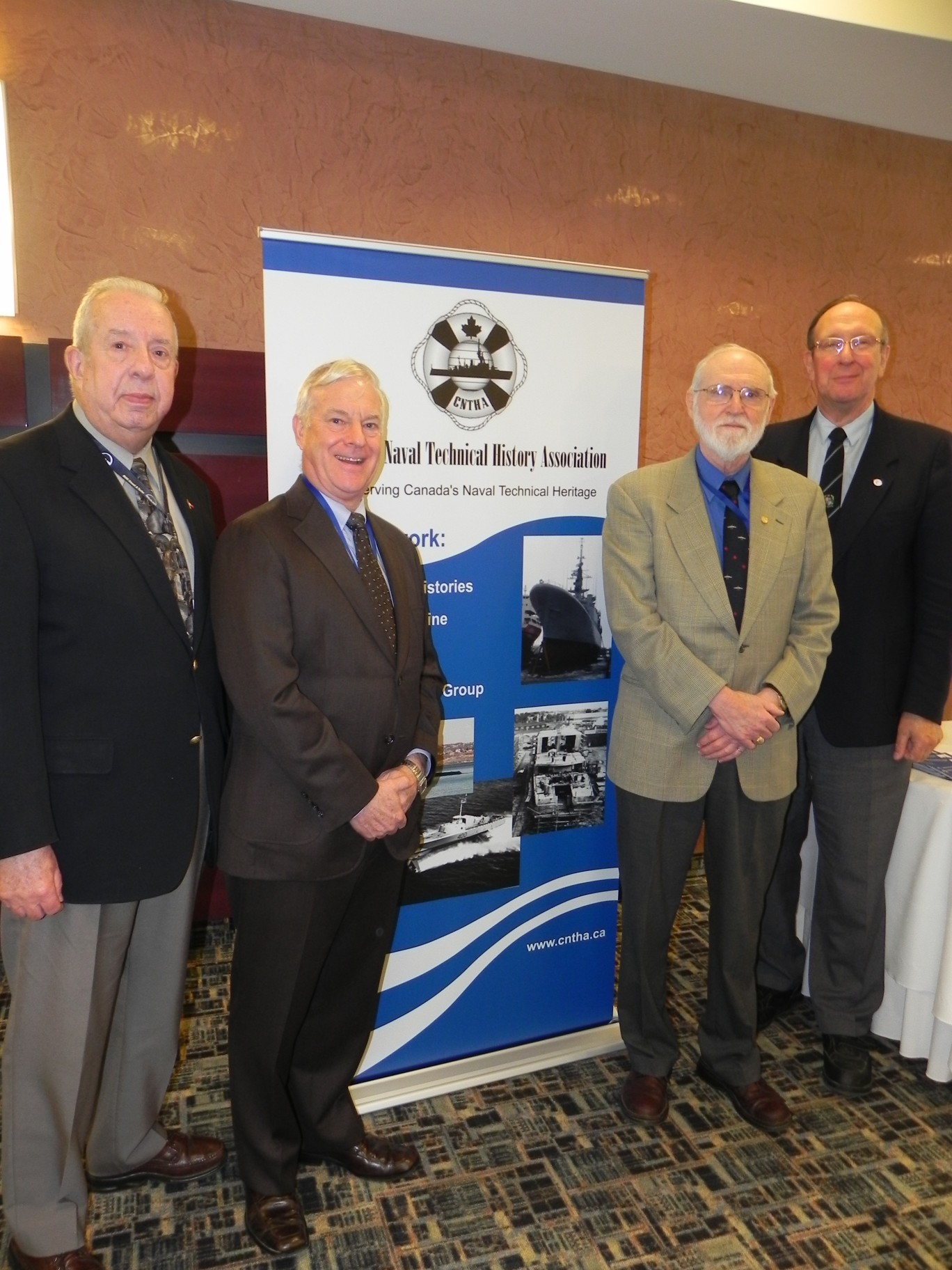 2012-04-10: CNTHA accepted an invitation to participate in Mari-Tech 2012, an event co-hosted by the Ottawa Branch of the Canadian Institute of Marine Engineering and the Eastern Canadian Section of the Society of Naval Architects and Marine Engineers held April 10 & 11, 2012. The event was very popular with over 500 from the marine community attending the event held at Ottawa's Hampton Inn & Conference Centre. CNTHA members in the photo (left to right), Jim Dean, Tony Thatcher (Executive Director), Pat Barnhouse (Chair) and Don Wilson (Webmaster).
2011-02-23: The entire meeting was devoted to strategic planning for CNTHA. The session was facilitated by John Thomas, a former Naval Officer (Naval Architecture) and currently President of John F. Thomas Management Consulting. The session was most productive and a summary report was printed in the Maritime Engineering Journal #67 - the CNTHA Newsletter for the Spring 2011.
2009-11-06: At the regular CANDIB meeting, a number of changes were announced and volunteers present discussed the future of CNTHA. One reason for this discussion was Mike Saker's upcoming move to Nova Scotia. After about 14 years as CNTHA Chair, Mike and his wife are leaving Ottawa to the comfort of a retirement home in Mahone Bay, Nova Scotia.
During this meeting, Pat Barnhouse was confirmed as Chair, CNTHA and Tony Thatcher as Executive Director. At this meeting, there was a discussion leading to a restructuring of CNTHA with the following agreed:
CANDIB volunteers will forthwith become CNTHA volunteers;
The CANDIB group will be re-designated a CNTHA Working Group along with the following new ones:

Combat Systems;
Marine Systems;
Naval Architecture;
Aviation Systems; and
Naval Personnel
Working groups have been formed or will be formed under the mantle of CNTHA to investigate the many valued equipment and systems developed in Canada - many of which have found their way into others of the world's navies.